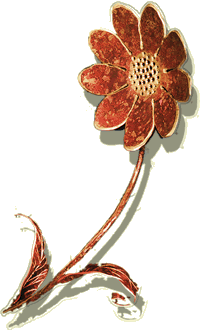 I find it very rewarding to create items for the home. Our homes have become our sanctuaries. These residences are the backdrops to our lives. I try to make some of the mundane tasks of day-to-day more exciting. Busy life styles and hectic schedules have made eating on the run, while driving, or standing a day-to-day event. We eat with our hands and from plastic utensils more and more, and lost is the social event of conception.

I intend to bring back the art of dining. The act of feasting together deeps our relationships in family, business, and romance. It feeds our bodies, our lives, and our souls.

My fondest childhood memories are of my family gathered around the dinner table sharing food and telling tales of our day. As an Italian-American I was raised with many huge family gathering and long feastings. The ritual of eating and entertaining is something I hold close to my heart.

When entertaining, we shop for the perfect ingredients. We labor over the preparation of our carefully chosen recipes and menu. We select the most unique serving platters to arrange the completed meal. The platters get placed on a beautifully set table, but we use ordinary flatware to serve up these vittles. It never made sense to me, so I thought, why not take this one step further? I realized even the most basic meal or take-out tastes better on fancy plates and eaten with unique utensils. Presentation is everything and life is in the details.

I design my flatware to be pleasing to touch and sight. Each piece fits comfortably in the hand no matter how large or small the user. It is also made to be ambidextrous; I am a lefty after all. I sculpt lots of curves and nooks into each handle and they are perfect for wrapping fingers around.

I recommend using my flatware as a centerpiece to decorate the table. When it is time to dine, the bouquet of servers should be deconstructed to serve up the cuisine. There will be no forgotten utensils to retrieve from the kitchen since they were already on the table to start. My flatware is as decorative as it is functional.